Attack Updates
We're getting closer and closer to having all of our backend systems working and ready for us to push all of the content into the game. Kent and Jack have been working hard to get these running and we have hit a big milestone with that. The downside is we don't have a lot we can show from that. However, Moudy has been working to get art done for our desert country of Flame. As we've said before, he is taking some inspiration from his home country of Sudan to give Flame a bit of Sudanese flavor alongside his own unique art style. We've decided to show one of our upgraded attack animations as we wanted to go with a style that was classic and reminiscent of Final Fantasy Tactics. We feel the new animation packs a punch and what better way to show that than with a new character design showing off one of the Flame Guardsmen. Let us know what you think of the new animation and character design in this attack update!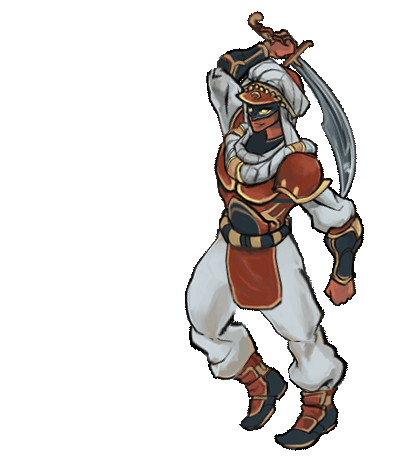 Weekly Lore Drops
Just wanted to let you know, if you're not following us on Facebook or Twitter that we have been dropping extra lore information every week about the world of Externus. We've been receiving a lot of positive feedback from these lore updates, so starting next week we will be doing them twice a week (Mondays and Thursdays.) Be sure to share them so more people can find out about Externus! Follow us on Facebook and Twitter to see these updates. The latest one is below:
Backer Surveys
Most of you have filled these out and we want to thank you for that! It's important to make sure we are able to produce the right amount of physical goods as well as getting some of the higher tier stuff added to the game. If you haven't had the chance to fill out the survey yet, you'll see an email reminder about that coming. We've also sent out an email of fun stats for everyone to see about the project. Thank you all for the support and we can't wait to show you what we have cooking for the next update!
Didn't receive a survey email? Follow the link to our recovery page here.
Don't forget to join us on Discord if you haven't, we're always up for a discussion on there. If you're a backer, let us know so we can give you access to backer features after joining.